photo credit:
Martin Fisch
Welcome to the "Hello Freedom - Farewell Book Tour"
Most artists these days have a farewell tour when they decide to retire. And this is
Dr. Worstell
's last
self-help book
. Of course, some of you have never heard of his books, so this is also Hello. And hello to your old friend
Freedom
, as well.
Dr. Worstell reported that through his most recent research, he had reached the point where there was nothing else he felt he could contribute to
self-help
as a subject. In this book he simply wraps everything up. This research pointed to the fact that we are now heading to spiritual training levels far beyond your average Self Help or
Personal Development
books and materials.
Book Review of Freedom Is (period.)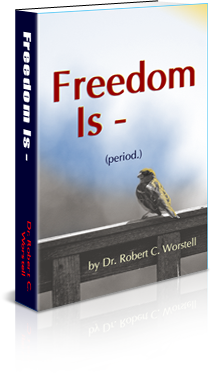 While there are great lengths of details about all the research and summizing that had to go into making this book, this is the top-of-the line research into the idea that
there is a common system of self-help
out there which all the bestseller
authors
have talked about and used to make their own successes. This is, of course, an extension of the
Go Thunk Yourself! book series
. And since this book comes out on the 10-year anniversary of that milestone breakthrough, an earlier version of this book was published as "
Go Thunk Yourself, Revisited
."
But
Dr. Worstell
didn't stop there – and kept finding and tweaking the contents until he knew there was nothing more to say.
He pointed out that this isn't just a re-hash of old theories, however. It's not just more anecdotes and a few chapters of testimonials (as is common these days, unfortunately.) This book takes from where the earlier books finished and goes beyond them into really seeing how these bestseller classic self help books intersect and corroborate the others.
Plus – he found out the missing secrets they all nearly found but missed. And these secrets make the material and principles that these earlier authors talk about work like gangbusters.
There are 7 authors talked about here, although room in the book only permits a chapter for each, some may consider it's a bit short-handed in that regard. This book is meant as a broad guide, not a replacement for those classics. It's fully intended that you get copies of the referenced authors' books and study them along with this, or at least refer back to any studies you've already done.
Fully the last half is based on blog
articles
where Dr. Worstell reveals how he pounded out the details from this "secret" author who gives us the final clues to moving from self-help into spiritual training. (But the fascinating point is that there is enough data in this last book so that you can actually
go right ahead and achieve your own state of Enlightenment
. Really.)
But it's not expected that most people will take it that far. It's just one of those many "
Easter eggs
" in there – hidden in plain sight.
- – - -
Premise of this book: all you could ever want is already there…
And this is the unique approach taken. Most authors agree with you that you don't have what you are looking for. However, this isn't really true.
People are much more powerful and creative than they give themselves credit. Factually, they've gone into agreement with the world around them to make it impossible for them to manifest their native and basic talents.
The punch-line is in the key data which
Napoleon Hill
,
Earl Nightingale
, and most ancient religions and philosophies hold as axiomatic: that
the world is what you think it is
. Unfortunately, we've just given away the entire book, plot, main characters and all. It's like this:
you create the world with your thoughts
. So if you agree with the world that you are limited in any way, then you have to realize that you somehow put those lies out there to agree with in the beginning. (Yes, read that over a few times as you have to.)
Of course, we're not letting you in here on how to get out from under them, are we?
The book is an easier read than trying to figure it out on your own – it's all in logical sequence. Well, at least the author thinks so.
- – - -